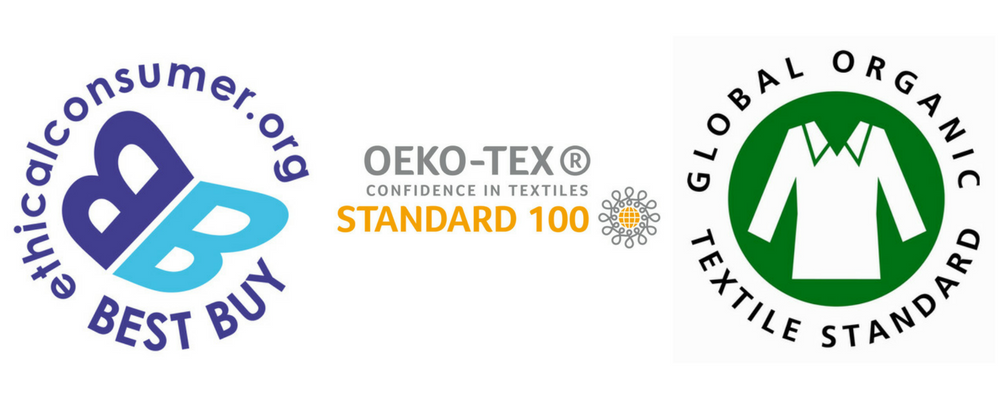 A Best Buy rating from Ethical Consumer
In November 2017 Ethical Consumer audited us using their strict ethical and environmental criteria.  We were thrilled to discover that we had automatically scooped Best Buy certification because we had come in 2nd out of twenty-seven companies in their table of 'Alternative Clothing Shops.'   Three years later we still hold the same spot which is just so exciting and rewarding.
Here's what Ethical consumer has to say about us
"The Ethical Consumer Best Buy Label identifies companies such as Earthmonk who consider ethics throughout their entire operation.   This gives shoppers the confidence that they're making the best possible ethical and environmental choice.  The label is the definitive endorsement for people who want to put principles at the top of their shopping list."
Earthmonk Best Buy Ranked Clothes
The moment we visited our textile manufacturer in Portugal we knew we had found a company whose values were in line with our own ethos.  This family run business has been operating for over twenty-five years and has in recent years been passed down from mother and father to the daughter to run.
As you can see from the video the staff work in the high standards you would expect of an EU compliant factory and greeted us with a warm welcome. Boy can these ladies cut and sew fabric fast. We can say with pride that we know exactly who makes these clothes!
What's very unusual about our Portuguese factory is that they own both the mill and textile factory.  This means that once the GOTS organic cotton bales arrive the fabric for our clothes then the garments themselves are made under one roof.
The T-shirts then go to the screen printers. Both the factory and the printers have OEKO-TEX®certification.  So you can be sure there are no nasty chemicals in them.  Please see the video and information below for more information about hand screen printing and OEKO-TEX®certification.
All in all that's a short and transparent production chain.   This means we know exactly who made each of our garments and that you can rest assured that everyone involved works within a safe and healthy environment and earns a fair wage
Manufacturing in Portugal does mean that we need to ship the goods over to the UK.  We recognise that this has a consequence on Earthmonk's carbon footprint.  We hope that our work in the Peruvian Amazon goes some way to offsetting this aspect of production.
All the clothes that rank as a Best Buy garment clearly state this in the product information and also have the Best Buy logo within the product images.
Earthmonk Fair Wear Clothes
In the Summer of 2019, we added some new lines of clothes to our existing range. This included T-shirts, ladies hoodies, ladies sweaters, tote bags and accessory purses.  All the garments are GOTS certification, OEKO-TEX®Standard 100 and Fare Wear Accredited.
The sweaters and bags are made from blended products. The tote bags are made from a blend of 80% recycled cotton and 20% recycled polyester. These come with Fair Wear Foundation and PETA approved Vegan certification as well as The Global Recycled Standard label which certifies that the materials used are recycled: in the case of polyester, from plastic bottles, and for cotton, from cutting waste. GRS also guarantees compliance with social and environmental criteria such as treatment of wastewater, the absence of certain toxic additives and respect for working conditions in our partner factories.
The lady's sweaters are 85% of organic, ring-spun combed cotton and 15% recycled polyester. This garment comes with Fair Wear Accreditation, OEKO-TEX® certification, PETA approved Vegan certification as well as Organic Blended Content Standard textiles certification Organic Content Standard verifies that a product contains organically grown material. It does not address the use of chemicals or any social or environmental aspects of production; it only covers the traceability of the organic material. The OCS uses the chain of custody requirements of the Textile Exchange Content Claim Standard (CCS).
Premium Organic Cotton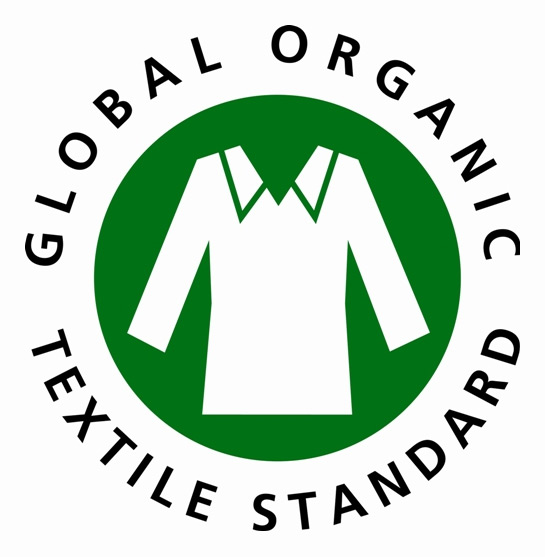 Many of us already know that pesticides are commonly used on crops. What many of us don't know is how deadly these chemicals are.  Not only are they poisonous chemicals that affect the land and its delicate ecosystem, but thousands of cotton pickers also die every year from the toxic effect of the pesticides sprayed on the crops they handle.
Organic cotton is a natural fibre that is renewable and biodegradable. It grows free from any harmful chemicals and is, therefore, better not only for the environment but also the lives, families, communities and farms that grow the cotton.  It also means that you get to wear clothing that has no pesticide residue on it and that has to be better for your skin.
Screen Printing
Screen Printing is a type of stencil printing, where ink passes through a fabric or mesh screen, most decals you see on the front of t-shirts have been mass-produced by commercial screen printing companies using machines.  Hand screen printing is down to the skills the individual and obviously is a slower more labour intensive process (please watch our video!).  We have chosen companies who do the job brilliantly – as the detail in some of our designs is exceptionally fine!
The majority of our T-shirts are hand screen printed in Portugal. Both the clothing manufacture and screen printing companies have OEKO-TEX® certification.  This is a worldwide consistent, independent testing and certification system for raw, semi-finished, and finished textile products at all processing levels.  It means that you can rest assured that no nasty, hazardous chemicals are used in the production of these organic cotton clothes.  We can also confirm that absolutely no animal-derived ingredients are used within our garments meaning our vegan customers can shop with us with confidence.
Some of our Best Buy T-shirts, as well as our Fair wear garments, come to us blank.  This means we have been able to source a local, independent screen printing company and support a local business near to where we live.
Plastisol inks versus water-based inks
In recent years there has been a significant rise in water-based inks being touted as 'greener' and more sustainable than plastisol inks. What many people do not realise is that it's a much more complicated topic than it appears at first glance.
The Science
Steve Kahane, an International Coatings' president and CEO whose held senior executive positions in the environment and engineering fields, has to say on the topic.
"Claims that water-based inks are more environmentally friendly than plastisols are questionable at best."  Both ink systems include industrial chemicals as they each rely on plastic resins or binders, pigments, fillers and various chemical additives.
Plastisols contain plasticizers that cross-link with the plastic resin. Water-based inks rely on solvents that evaporate off leaving the pigmented binder compounds on the garments. While the primary solvent is water, water-based inks often contain co-solvents such as formaldehyde and alcohols. They can also contain additives that inhibit mould growth or help with curing or print performance."
You can see why both inks are considered hazardous chemicals when in their uncured state.  Handling and disposal of them both is governed by laws such as the Consumer Product Safety Improvement Act. Thanks to CPSIA, lead-free, phthalate-free plastisol and even PVC-free plastisol inks are now quite common and many of the chemicals, including carcinogens in the past formulations of water-based inks, are now banned.
Footprint?
So what does Steve Kahanehave to say about the footprint of these two types of inks? "Plastisols and water-based inks have environmental footprints that are quite different. Water-based printing generally requires more energy (to drive off the moisture). At the end of a print day, plastisol can be left on the screen or put back in the bucket for use at another time. Not necessarily so with water-based inks. Water-based printing tends to generate more waste, and that waste quite often is mistakenly poured down the drain.
The common misconception is that water-based inks are benign since they're largely water. Not so. They are chemical compounds that aside from the harmful co-solvents, contain other chemicals (binders, fillers, additives and pigments). Some of these chemicals are considered hazardous and must be managed as such. Plastisol waste that can't be reused can often be recycled for other uses or when cured can be disposed of as regular plastic. Water-based binder in some cases may be disposed of similarly if all solvents have been evaporated.
The point here is not that plastisol is better than water-based ink. It's that water-based isn't necessarily better or greener than plastisol. It's not. Much of how green your shop is coming more from how you manage it — materials, energy and workflow."
So you see there are arguments for and against both types of inks.  Ultimately what we hope you can see here is that sustainability isn't about the inks but the entire process and all the factors that make up the final title 'sustainable.'  Ultimately you can make your own decision about whether you have a preference for or against either ink.  What's important is that we have clearly stated in the 'additional information' section of each product page whether the screen printing process has used water based ink. 
Hand knitted, fair trade beanies
Our beanies are made using New Zealand Wool farmed with voluntary agreements to avoid the controversial practice of 'Mulesing.' They are hand knitted in Nepal within the family home by women within fair trade schemes.
The company who we work with are accredited and audited by Sedex regarding their ethical and responsible practices. Information is centrally stored and reports on key areas including Labour Standards, Health & Safety, The Environment and Business Ethics. They also have an open policy where we can review their operational practices to ensure that they are maintaining their code of practice.
For the last six years, this company have worked with MADE-BY, the independent European consumer label for fashion companies who are transparent about the social, economic and ecological conditions throughout the whole supply chain of their collections. Its mission is to make sustainable fashion common practice. The MADE-BY label gives consumers the assurance that a brand produces with respect for people and the planet to its best efforts.
To offset the shipping by sea and freight an annual contribution to Carbon Footprint. Pledges to Carbon Footprint Offsets are used to support projects that will reduce carbon dioxide emissions and alleviate global warming. These funds support projects for energy efficiency and sustainable energy technology development.
And lastly, they support various charities including The Joy Foundation and Clean up Nepal and since the 2015 earthquake have been involved in a number of strategic charities, including co-founding 'Brand Aid' – an initiative backed by leading British fashion brands who have close links to the Nepalese people. Collectively £275,000 has been raised and distributed to relief projects.
Packaging and promotion
We use 100% recycled, grey plastic mailbags for all our parcels. Inside your mailing bag, you will find your garment wrapped in ethically sourced tissue paper.  We scoured the internet and found one that not only contains a high percentage of recycled pulp also sustainable virgin pulp but is also coloured with environmentally friendly soy-based printing inks. The stickers on the parcel are biodegradable.